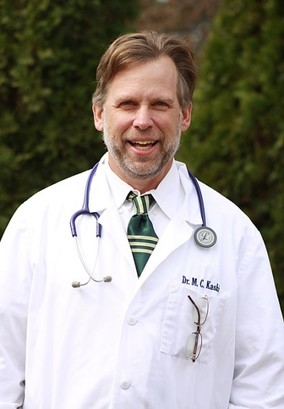 Dr. Kaski
Dr. M.C. Kaski's father was a veterinarian, so he was exposed to the veterinary field from a very early age. After exploring the auto mechanic world for a few years, he started to feel that something was missing—that something was animals! Now Dr. Kaski is the sole veterinarian and a co-owner of Countryside Veterinary Center.
Dr. Kaski was born in Bryan, Ohio and grew up in Michigan. After veterinary school, he was hired at a Virginia veterinary clinic and became part-owner shortly afterward. After a few years, Dr. Kaski decided to focus exclusively on small-animal medicine and opened Countryside Veterinary Center in 1979.
Dr. Kaski's professional interests involve dynamic problem solving and surgery. He says that there are quite a lot of similarities between fixing pets and fixing cars! Ultimately, Dr. Kaski finds fulfillment by helping pet owners in whatever way he can.
At home, Dr. Kaski and his wife Reid live with their frisky wild but yet very lovable Kitty Puddles. They rescued her during flooding weather conditions when leaving their family cottage in North Carolina. In his time away from the clinic, Dr. Kaski enjoys playing weekly matches with his tennis group, golfing, and spending time in Salvo, North Carolina.